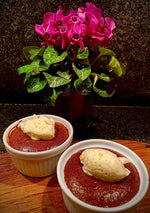 These. Are . Simply. Glorious.
This is an easy and quick chocolate recipe perfect for those days when you're craving a decadent treat.
Little pots of deliciousness. Utterly sublime in flavour and texture and they could not be more simple to rustle up. And they are naturally GLUTEN FREE too. We serve them with a Lismore Marmalade and Mascarpone cream.
They are truly sensational. Whether you have or have not ever made a desert before this is your moment to simply shine. They taste like you've spent hours on them but the hardest part is the 45-minute wait for them to come out of the oven... don't be tempted to turn up the oven.
Lismore Chocolate & Orange Hot Pots with Marmalade Mascarpone (GF)
Ingredients for the Chocolate Pots
95g 70% Chocolate cut into small pieces
65g Butter diced
2 Eggs
95g Castor sugar
The Zest of Half an Orange
Ingredients for the Marmalade Mascarpone
40g Mascarpone
40g Cream
Zest of 1/2 an orange
10g Castor Sugar
The seeds from 3 x Cardamom pods
2 Lightly Buttered Ramekins
Method 
-Preheat oven to 120c or 100 fan
-Melt the Butter and Chocolate gently in 10-second bursts in the microwave - stir thoroughly after each 10-second burst. Alternatively, pop into a heatproof bowl and place it on the top of barely simmering hot water until it has all melted. Make sure the base of the bowl doesn't touch the water underneath.
-Whisk the eggs and sugar well until light and fluffy.
-Slowly drizzle the Chocolate Butter mix slowly into the egg mix, whisk through thoroughly. Mix through the orange zest.
-Divide the mix between the two ramekins, pop on an oven tray and place into the oven for 45/50 minutes
-In the meantime whisk all the Mascarpone ingredients together until it's smooth, whipped & delicious
-Allow the pots to sit for a few minutes when you remove them from the oven and then top with a gorgeous scoop of the Marmalade Mascarpone
Enjoy!