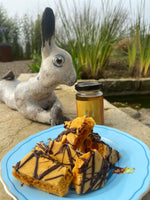 The Lismore Honey Bunny 🐇has been busily practising his kitchen alchemy! ⭐️
Perfect as a homemade gift or as crunchy ice cream topping this delicious recipe for Honeycomb drizzled in Dark Chocolate is quick, easy and fun!
Honeycomb Ingredients 
200g Castor Sugar 
3 tbsp Golden Syrup
2 tsp Bread Soda (sieved)
100g Dark Chocolate finely chopped
Method
Step 1
Pop the sugar honey and golden syrup into a deep saucepan on low-medium heat. Mix it all and heat gently until all the sugar has melted. 
Step 2
Turn the heat up a bit and allow the mix to darken to a deep coppery bronze, hold your nerve here! If you are using a thermometer we are looking for 121-130c here. 
Step 3
Remove from the heat when it gets to the right colour and swirl the saucepan for about 30 seconds to cool a pinch. 
Step 4
Now add the bread soda and stir quickly and vigorously until it's thoroughly mixed and the mixture has foamed up. Now pour the honeycomb mix onto your silicone mat or lined tray and allow it to cool for an hour and a half. You can pop it in the fridge to speed things up! 
Step 5
When the honeycomb has fully cooled break it up into bite-size pieces, use whatever implement works best for you. It's a rather therapeutic exercise - you'll see! 
Step 6
Pop the honeycomb pieces on a wire rack over your lined tray 
Step 7
Melt the chocolate. The quickest way to do this is in the microwave in 10-second bursts. When it has fully melted drizzle it haphazardly over the honeycomb. When the chocolate has set it's ready to eat. Enjoy! it's truly scrumptious  
Step 8
Store in an airtight container or in the freezer 
Dessert Tip: Crunch it over a few scoops of vanilla ice cream or through some whipped cream and serve with some chopped berries for a quick and delicious dessert fix