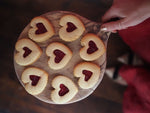 We're Jammin... We hope you like Jammin' too! Easy and Quick Jammy Dodgers Recipe
Inject a little a bit of fun and deliciousness into your day by making some old school Jammy Dodgers! These have always been a firm favourite with us and kids love making them - even if it requires a little bit of patience. But the jammy sticky crunchy rewards are worth it. 
Lismore Jammy Dodgers
Ingredients:
150g Unsalted Butter
115g Caster Sugar
1 Large Egg, beaten
1/2 tsp Vanilla Extract 
275g Plain Flour, plus extra for dusting
Preheat the oven to 180 C
Method
1. Line 2 large baking sheets with parchment paper. 
2. Beat the butter and sugar together in a large bowl until pale and creamy. 
3. Gradually beat in the egg and vanilla extract.
4. Sift in the flour and mix to a dough. Bring the dough together with your hands and quickly knead on a lightly floured surface. 
5. Shape the dough into a flat disc, wrap in cling film and chill in the fridge for 40 minutes. 
6. After the 40 minutes, roll half the chilled dough out in a lighlty floured surface to a 3mm thickness. 
7. Use a 5cm round cutter to stamp out circles, re-rolling the dough as necessary. 
8. Place the discs on one of the baking sheets. Repeat with the remaining dough but use a 2 or 3 cm round cutter (or end the large of a large pipping nozzle) to stamp out the centres from each circle. 
9. Place both baking sheets in the fridge for 30 minutes. 
10. After the 30 minutes, take the baking sheets out of the fridge and bake the biscuits for 12-14  minutes or until crisp and pale golden. 
11. Take the biscuits out of the oven, and leave on the baking sheets for 5 minutes then transfer to a wire rack to cool. 
12. Once they have cool down, start to assemble the jammy dodgers! To assemble, spread about 1 tsp of Lismore Raspberry Preserve on each whole biscuit and sandwich the biscuits together- Now you're jammin!!
Enjoy!!